The ACSWCD received funding through the Hurricane Irene/Tropical Storm Lee Flood Mitigation Grant. This grant was administered by Empire State Development in consultation with the New York State Department of Environmental Conservation, to implement flood mitigation or flood control projects in creeks and streams impacted by the storms.
In 2017 the seventh and final project covered under this grant was completed along the Fox Creek in the Town of Berne. The Fox Creek is a small tributary of the Schoharie Creek and the Mohawk River. During the storms, more than 10 ½ inches of rain fell in this watershed, causing the Fox Creek to jump its banks and cause severe damage in the hamlet of Berne. The segment of the stream adjacent to the Old Berne Mill store and parking lot experienced severe bank erosion. Trees as well as soil and asphalt from the parking lot slipped down the banks into the stream channel, causing water quality issues.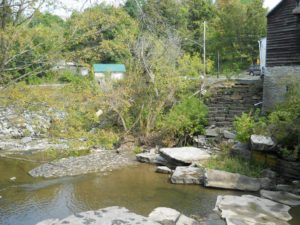 Trees and soil from top of bank slipped down into the stream channel during the flooding that occurred during Hurricane Irene and Tropical Storm Lee.
The District was able to utilize funding to install a 123 foot Geoweb retaining wall that was backfilled with soil, mulched and seeded. The wall measures approximately 24 feet high and is secured to a concrete slab to create a sturdy foundation. This wall has most importantly stabilized the toe of the stream bank to help eliminate any future damage to the banks and structures.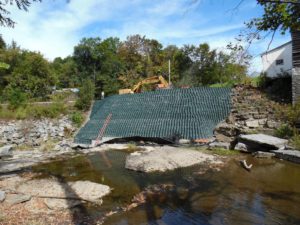 Installation of a 123 foot Geoweb retaining wall that has been backfilled with soil, mulched and seeded; stabilizing the slope and toe of the streambank.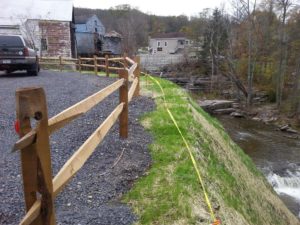 View of the wall from the top of the bank.